European and US human rights academics concerned about post-authoritarian persecution and the Tai Ji Men Case
INTERNATIONAL DIPLOMACY: Chen Chu acknowledges the importance of the issue and discusses Tai Ji Men case
In the middle of last month, an international human rights investigation group consisting of human rights academics and experts, media editors and reporters from Austria, Belgium, France, Italy, Lithuania, Spain, Romania and the US visited Taiwan and met with government agencies and human rights organizations.
(Originally published by our cousin newspaper TAIPEI TIMES)
The group's final visit was to the Control Yuan's National Human Rights Commission in Taipei, where they met with Control Yuan President Chen Chu (陳菊) and commission members Tien Chiu-chin (田秋堇) and Lai Chen-chang (賴振昌) to discuss issues related to transitional justice, post-authoritarian human rights persecution cases and the commission's duties.
The group previously visited the National Human Rights Museum in New Taipei City — the former site of a prison in which more than 8,000 political prisoners were held and tried in military courts during the Martial Law period, including Chen.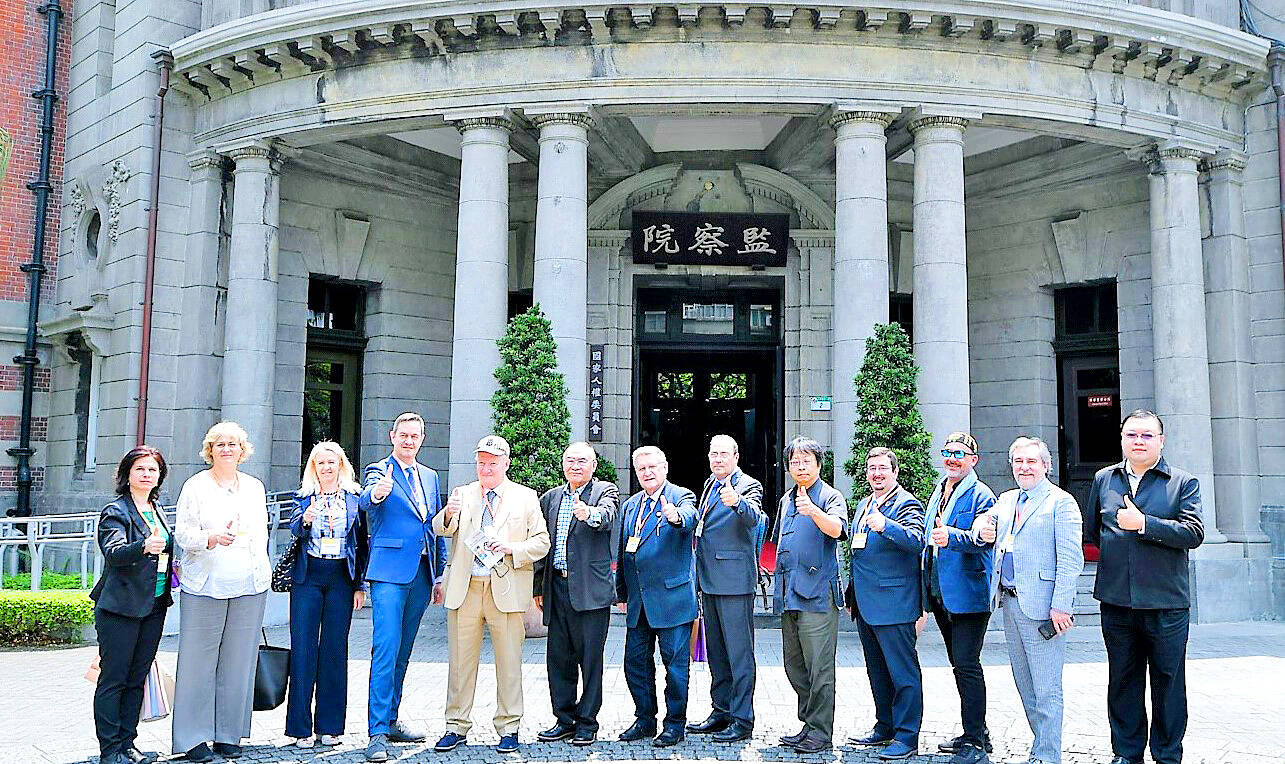 European and US academics and human rights experts pose for a picture in front of the Control Yuan in Taipei in an undated photograph.
Photo: Taipei Times
Citizen Congress Watch board member Tseng Chien-yuan (曾建元), who accompanied the group, said: "These academics have seen the prison cell in which Chen Chu was being held at the time. She was an inmate at the time, and she is now the president of the Control Yuan. In addition to admiring her courage at the time, we also believe that her experiences and abilities can prevent Taiwan from repeating her experiences, and bring progress in all aspects of Taiwan's human rights."
Led by Italian sociologist Massimo Introvigne, who is editor-in-chief of religious magazine Bitter Winter and a world-renowned academic, and Willy Fautre, president of the Belgium-based non-governmental group Human Rights Without Frontiers, the delegation said Taiwan's most valuable assets are freedom, democracy and human rights.
The delegation also focused on human rights abuse cases that have not yet been fully redressed in Taiwan's post-authoritarian era, including a case involving the previously persecuted Tai Ji Men Qigong group, which urgently requires the implementation of transitional justice and obtaining redress.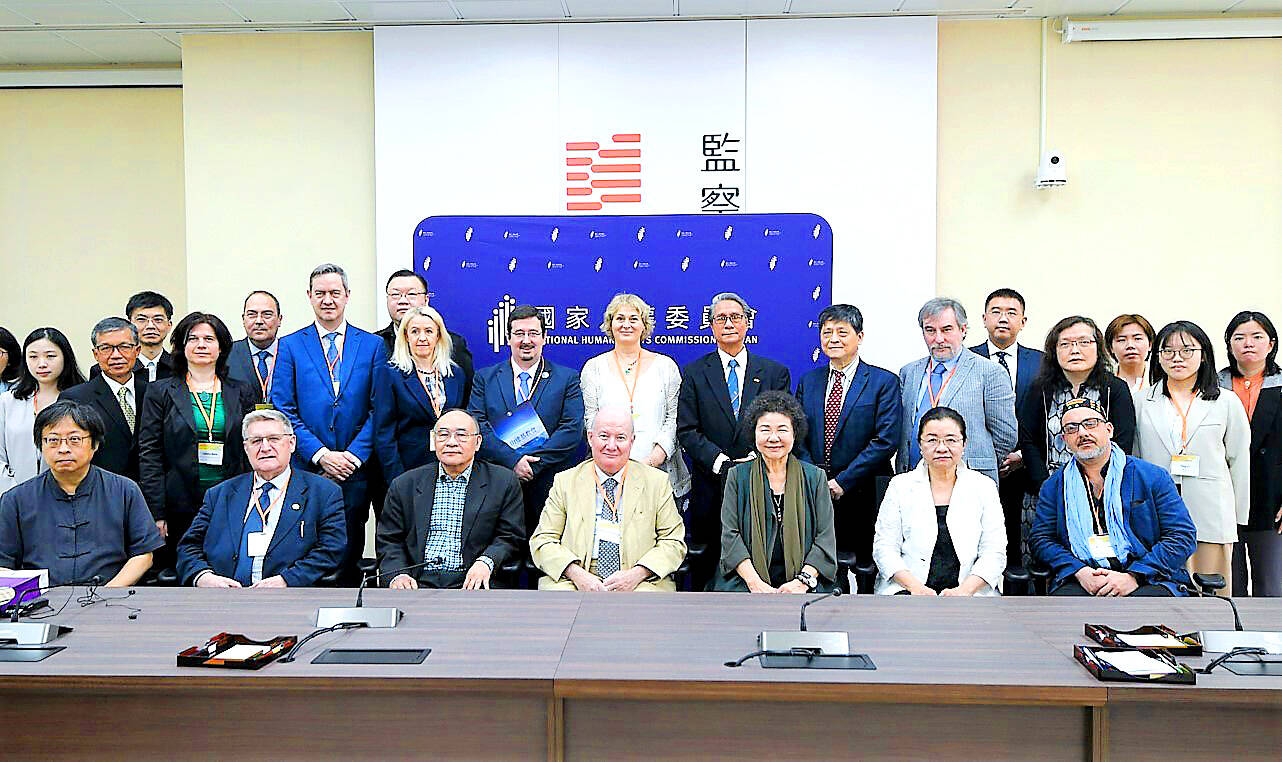 European and US academics and human rights experts meet with Control Yuan President Chen Chu, front, third right, during a visit to the Control Yuan and the National Human Rights Commission in Taipei in an undated photograph.
Photo: Taipei Times
The group was accompanied to the National Human Rights Commission by Ambassador-at-Large for Religious Freedom Pusin Tali, who was appointed after the administration of President Tsai Ing-wen (蔡英文) created the position.
Pusin Tali is a pastor in the Presbyterian Church and has experienced first-hand the political oppression that the church has undergone.
Upon hearing about the international attention surrounding the Tai Ji Men case, including from the delegation, he made an appeal.
"The international community is supporting Tai Ji Men. While waiting for legislative reforms, the most important thing is to allow them to use their land and academies properly," he said. "This will help them cultivate their minds and spirits. Religion is about bringing out the good side of people. Our country should make good use of Tai Ji Men and use it as a form of international diplomacy."
The delegation's visit was organized by the Taiwan-based Chinese Democracy Academy Association and Citizen Congress Watch.
The organizers said they made special arrangements to help the international experts experience the democratic values of Taiwan more deeply.
"The National Human Rights Commission has been operating for two to three years, but it still lacks the power of judicial review," Tseng said. "The power of judicial review is to provide it with a weapon, for example, temporary injunctive relief for cases where human rights are being infringed upon. It should be able to suspend the execution of illegal or inappropriate administrative penalties."
Chen expressed her willingness to make the greatest effort possible to achieve this.
Introvigne said that through the group members' meetings and exchanges in Taiwan over the past few days, they hoped to observe and experience the diversity and prosperity of religions in Taiwan.
While praising Taiwan's efforts and attitude toward religious freedom, they nevertheless also had to bring up the unresolved issue of Tai Ji Men as a matter of religious freedom, Introvigne said.
"Many international scholars, including those in the United States, are concerned about this issue," he said.
Introvigne said he believes that as a highly democratic country, Taiwan's only way to solve such problems is through dialogue.
He emphasized that they are good friends and defenders of Taiwan and are willing to help wherever they can.