In an interview with UN News, the agency's Alia Zaki emphasized that shortage of fuel is a major concern. Without it, hospitals and bakeries could simply grind to a halt.
While UN agencies and aid workers are working flat out to get aid in, they are confronted with the need to reduce rations and prioritize the distribution of food and other essentials.
Jerusalem-based Ms. Zaki also stressed the urgent necessity for a humanitarian ceasefire, which would allow aid workers to deliver supplies in safety for both themselves and those in need.
The interview has been edited for clarity and length.
UN News: Can you tell us first about the humanitarian aid that entered Gaza since last Saturday and what it contained?
Ms. Zaki: On Saturday, we along with other agencies, welcomed the news of the first humanitarian convoy that was able to enter into Gaza through the Rafah crossing.
It contains essential supplies, food, water and medicine; but even though this was a very good first step, it is nowhere near enough to match the needs of the people inside.
And since then, we are aware that there has been movement, and it is happening in coordination with the Egyptian Red Crescent and UN agencies, and there is some movement of small amounts of really lifesaving and essential needs that are going in every day.
But, compared to the needs that are rising inside…Some people are saying (it is) 'a drop in the ocean' – which is really the case.
UN News: You said it is a small amount. So, do you have any information about the next delivery and if it will be continuous and sustainable?
Ms. Zaki: So, I know that negotiations are ongoing for aid delivery to be continuous and in a sustained manner. A lot of humanitarian partners and UN agencies, the Egyptian Red Crescent, are working really, really hard to ensure this is happening every day.
What I can tell you is that we are ready, we have more than 40 trucks waiting at the border, along with many other humanitarian agencies who also have high numbers of trucks that are waiting outside.
UN News: UNRWA said on Sunday it will be running out of fuel in three days. So how will the situation be without fuel being allowed into Gaza?
Ms. Zaki: The situation right now is already catastrophic. We are looking at people who for the 16th day now have had no access to essential services. They are running out of food and they are running out of water.
Without fuel, hospitals will not be able to operate and bakeries will not be able to operate.
Let me tell you a bit about above the bakeries: what the WFP has been doing on the ground within the first 48 hours of this escalation is that we provided wheat flour to bakeries. The bakeries are producing fresh bread that then gets distributed to the UN shelters for the displaced people.
We started off with almost 23 bakeries that we were working with to deliver food for the people in shelters. Right now, only four are able to operate. They do not have enough power to get the machines working. And unfortunately, some were also hit.
With this, you know, the collapse of essential infrastructure, the lack of fuel to make sure that the machines are running, it is really making a situation that is already catastrophic, worse.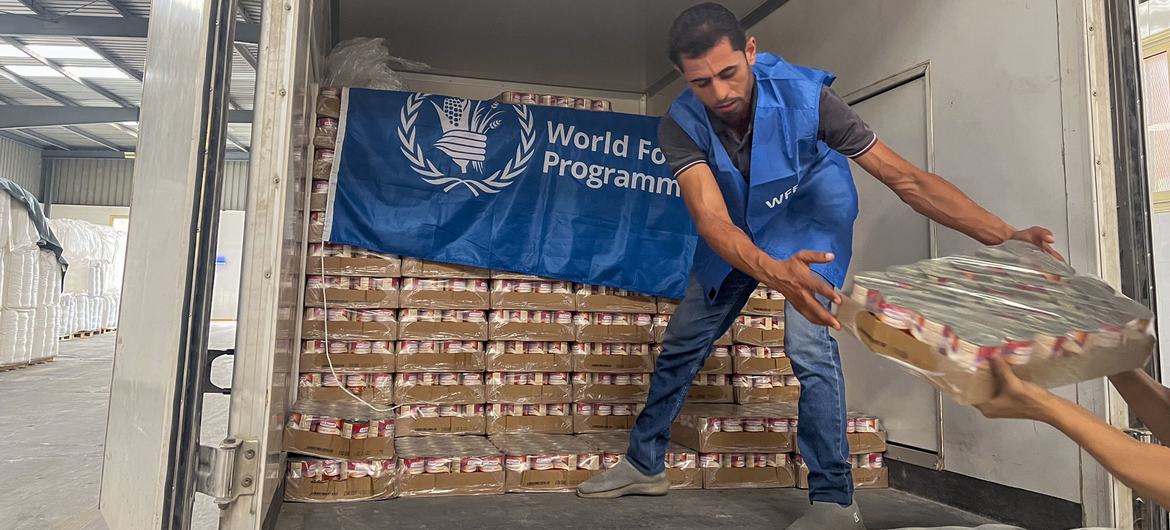 UN News: What are your priorities for distributing aid inside Gaza amid a scarcity of supplies?
Ms. Zaki: This is one of the main challenges that we are facing at the moment because the needs of the people, the number of people in need are much, much higher than the capacity and the resources allow for us.
But really, it is limited and it is painful how limited it is. In terms of prioritization, to try and make sure that we're reaching as many people as possible, we have to reduce the ration of food that we were providing per person.
What we are also doing is we are aware that we cannot reach all the shelters every single day. And so based on the capacity of the bakeries and based on the capacity of the distribution on the ground, we prioritize shelters that had not received food the previous day.
UN News: Talking about our WFP colleagues on the ground, what are the challenges facing them now moving around Gaza, and also, do you have any information about if there are any casualties?
Ms. Zaki: WFP staff have had to evacuate. Some of them had to evacuate their homes when the evacuation order came from for the movement from the north to the south. Some of them are currently residing in shelters, some are staying with families in host communities and some have decided to stay in their homes.
Our staff themselves are facing displacement. They are facing the loss of their loved ones and of course, the pressures of the whole situation on them.
They are working or they are trying to work to make sure that they are reaching the people in need.
UN News: If we do not have a ceasefire right now, what can be the challenges to deliver and move supplies across Gaza without a ceasefire or a humanitarian truce?
Ms. Zaki: I will not tell you that it is impossible, because I know that WFP and other humanitarian workers are on the ground and ready to respond and meet people's needs no matter the situation.
But I can tell you that it is essential because humanitarian aid, humanitarian work, humanitarian workers, should be able to carry out their job to make sure that they can reach the people in need.
It is essential that civilians must be protected and the essential infrastructure – hospitals, bakeries – must be protected
That is, of course, not to mention how essential it is that civilians must be protected and the essential infrastructure – hospitals, bakeries – these all must be protected. And if they are not, then carrying out humanitarian work is essentially much, much harder. How are the roads going to operate? The roads are damaged, the infrastructure is damaged. This is what is stopping shops from being able to restock with wholesalers.
The lack of fuel, just like it's impacting, you know, the people inside – it will also hamper humanitarian operations because they cannot run without fuel.