The World Health Organization's representative to the DRC, Dr Boureima Hama Sambo, warned that in six eastern provinces, health facilities have been set alight, health workers killed and others face constant physical and psychological threats, while supplies have been looted. Heavy rain, flooding and landslides have also compromised aid access.
Dr Sambo said that the DRC is facing its worst cholera outbreak since 2017, with the eastern provinces accounting for 80 per cent of the cases. The country is also battling a major measles epidemic and the combination of measles and malnutrition was particularly deadly for children under five.
The UN health agency official said that WHO has deployed experts to the affected areas to support the authorities in investigating and responding to these outbreaks, delivered medical supplies for cholera treatment, supported transportation of samples to labs for testing, and built cholera treatment centres.
Vaccine campaign
The World Health Organization recently completed a vaccination campaign in Ituri province reaching over one million of children under five, with more campaigns to follow in Kasaï and Mai-Ndombe. 
WHO was also providing health services, including access to mental health and psychosocial support, to victims of gender-based violence. Some 23,000 cases were reported in the six provinces from January to August 2023 and Dr Sambo said that the real figures were "probably much higher".
For a "more sustainable and resilient health response" in eastern DRC, Dr Sambo called for stronger donor support, as the UN health agency's response in the region was only 14 per cent funded so far.
Iran: new hijab bill must be shelved: Türk
High Commissioner for human rights Volker Türk, said on Friday that Iran's "draconian" Chastity and Hijab Bill "flagrantly flies in the face of international law" and must be shelved.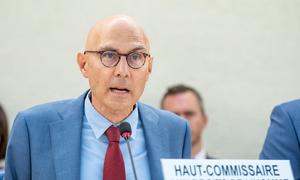 The bill vastly increases jail terms for offenders and provides for crushing fines on women and girls who do not obey the compulsory dress code.
According to the UN rights office (OHCHR), under the new, "even stricter" bill, now in its final stage of consideration before Iran's constitutional court, those who do not comply with country's strict Islamic dress code on head coverings and modest clothing risk up to 10 years in jail.
Those found in breach could also be flogged, as well as fined up to an equivalent of $8,500, subjected to travel restrictions and deprived of online access.
OHCHR called the decree "repressive and demeaning", insisting that "women and girls must not be treated as second class citizens".
Russia expert says mandate provides 'bridge to the Russian people'
The independent UN Special Rapporteur on human rights in Russia, Mariana Katzarova, underscored on Friday the importance of her mandate to give a voice to victims of alleged violations in the country.
"Why is my mandate important? Because it's also the bridge to the Russian people, to the victims, to the civil society, to those who dare speak against the war on Ukraine", she told reporters in Geneva. 
"It's a voice for the people of the Russian Federation, this mandate." 
The independent Human Rights Council-appointed expert presented her first report to the Council on Thursday, sounding the alarm about what she says is a pattern of suppression of civil and political rights in Russia.
'Persistent use of torture'
She voiced grave concerns over mass arbitrary arrests and the "persistent use of torture and ill-treatment."
Citing almost 200 sources from inside and outside the country, the independent expert expressed concern about a lack of judicial independence and right to a fair trial.
The mandate of the Special Rapporteur on Russia was created by the Human Rights Council in October last year, for a period of one year.
Ms. Katzarova told reporters that she thought a continuation of the mandate would be important, especially amid what she called "dark times for human rights" in Russia.
This is the first time in its history that the Council has authorised a rights expert to investigate rights violations within the borders of one of the permanent members of the UN Security Council, the so-called "P5".
 Ms. Katzarova stressed that the P5 had a special responsibility to set an example for the rest of the world.
India: UN rights chief welcomes new bill to boost women in parliament
Rights chief Volker Türk welcomed on Friday the passage of a landmark bill in India which will reserve one third of seats in national and state parliaments for women.
The UN rights office (OHCHR) said that the Women's Reservation Bill will constitutionally entrench women's representation in parliament and be a "transformative move" for gender equality in India.
Citing India's example, Mr. Türk called on parliamentarians around the world to adopt legislative measures – including, where necessary, gender quotas – to ensure women's equal participation in the political discourse.
The new Bill requires ratification by at least 50 per cent of India's states to enter into force and the UN rights office called for their "swift support" and rapid implementation of the new system.